Self Tanner: Choose the Best Organic- Natural Product
Best Self Tanner: Review of Beauty by Earth Sunless Tanning Lotion
Beauty by Earth Sunless Tanning Lotion is made with natural ingredients, and that's the reason why you don't need to worry about any skin damages or early skin ageing issues. Also, there is nothing to worry about the orange tone of the product, it will only give you an original deeper tan.
This product is made in such a way that it repairs and serves the skin with a tan like you have never noticed before. Just apply it evenly and you will witness a change within 4-6 hours. You will have a notable golden color to your skin.
If you want a deeper tan, just apply it every day, until you get the desired color to your skin.
Once you have the desired skin color, apply it in every 4-7 days to maintain the color. The best part you will have a golden color without burning your skin in sun.
Product Details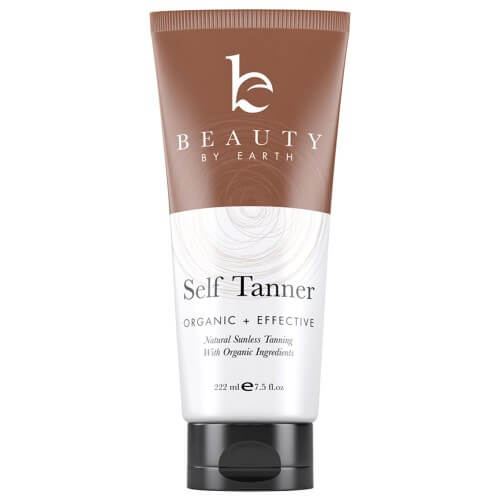 The shipping weight of the product is 10.4 ounces. Some of the ingredients are:-
Water
Organic Shea Butter
Organic coconut Seed Oil
Glycerin
Organic Pomegranate Extract
Organic Witch Hazel Extract
To get the most effective results, gently wash the skin before application.
Apply the skin tanning lotion to the desired areas of the skin. When you apply it on the loose layers of the skin like elbows and knees, apply less lotion. Make sure that you wash your hands immediately after applying the lotion.
Also Check: Best Outdoor Tanning Lotion that Enhances and Accelerates your Tan 
If you do not notice any change in color within 6 hours after the application of the lotion, apply it every day until you get the desired skin color. It is recommended to stay away from water for a few hours after its application.
Pros and Cons
Beauty by Earth Self Tanner is non-streaking and dye free. The sunless tanner reflects golden color on the skin within 4-6 hours after the application. Because it is a sunless tanning lotion, it does not give orange color to your skin, however, it reflects either golden or bronze color on the skin.
Its larger tube makes it more durable. The product gives a deeper tan to your skin, and it can be applied on any type of skin; dry, oily, black, etc.
It is non-toxic and requires very less amount of cream for application.
Those who have used it they have even mentioned that it does not have a bad smell rather it smells really good. It is smooth when applied on the skin, and the results are reflected in two applications at the most.
Beauty by Earth Self Tanner is made with organic ingredients that do not cause any adverse impact on the skin. Instead, it gives a deeper tan to the skin.
Imagine you apply various sprays on your skin and you start noticing scars over your skin. You just need to be a little more careful, and you don't have to rush because it is always good to feel soft.
Beauty by Earth Sunless Tanning Lotion not only gives you a deeper tan but it also moisturizes your skin. So it gives you multiple benefits, and it has been acknowledged as one of the finest products for deeper skin tan.
If you don't have a golden color on your skin yet, we strongly suggest you give a shot on this reliable product titled Beauty by Earth Sunless Tanning Lotion.