People are getting more and more aware of the risks that are involved in tanning using traditional methods. Whether from sunbathing or from tanning beds, the harsh UV rays can cause serious damages, if you do not take the right precautions. The threat of premature ageing of skin, sunburns and malicious skin cancer has pushed many sun worshippers to shun the sun and opt for other solutions. So, how to look like a sun-kissed goddess while still avoiding the damage from the harsh UV rays? Sunless tanners or self-tanners allow you to achieve that gorgeous golden glow, eliminating the need to bake yourself under the sun.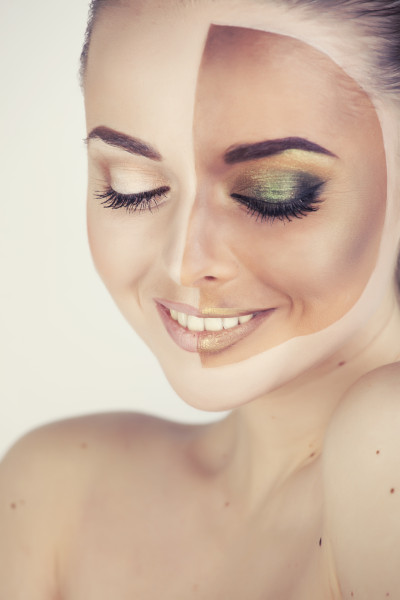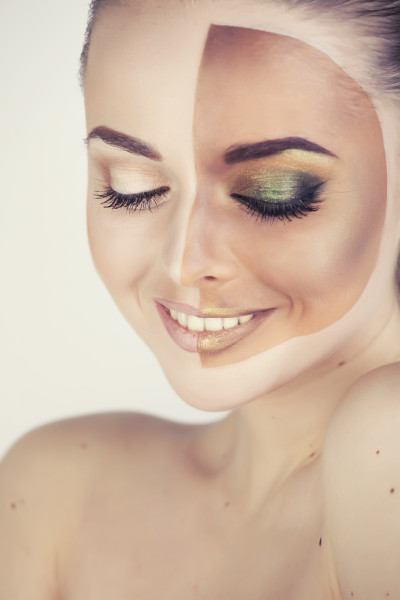 There is no need to risk your health anymore. You can still achieve that warm, sunny glow on your skin with a variety of sunless tanners available in the market. What is the best self tanner for fair skin? Are they safe to use? Will they really make you look naturally tanned? Accompany us on this trail to seek answers to all of these questions and find some of the best self tanners along the way. Ready?
What are different types of self-tanning products?
Self-tanners, also known as fake tanners, are available in many forms such as lotions, creams, tanning towels (also called towelettes and wipes), bottle sprays, airbrush spray tan, temporary bronzers and even tanning pills. The primary ingredient in almost all self-tanning products is DHA or dihydroxyacetone. However, other chemicals are also used in some self-tanners. Are they all safe to use? What makes a product the best self tanner? Let us explore in details and find out what experts have to say.
DHA or Dihydroxyacetone
DHA is a colorless chemical that is extracted from plant sources such as sugar beets and sugar cane. When applied to the skin, it reacts with the dead skin cells present in the outer most layer of the skin. This reaction results in a change of skin color, giving it a tanned appearance. DHA doesn't penetrate the outer layer and its action is limited to the surface only. It is just like when the surface of a sliced apple takes a brown hue when it reacts with air. As the skin begins to peel off or exfoliate naturally within a few days, the tan fades away too.
Tyrosine lotion
There are self-tanners that contain the amino acid tyrosine. This amino acid stimulates the production of melanin in the skin. Melanin is the pigment that gives colour to our skin.
Self-Tanning pills or Canthaxanthin pills
These sunless tanning products are meant for oral consumption and are not applied to the skin directly. These pills contain a chemical called canthaxanthin that is absorbed by the layers of fat in the body, including the layers that are located under the skin. This chemical is commonly used as a coloring agent in food and is approved by the U.S. Food and Drug Administration (FDA). But it is important to note that the FDA doesn't approve the use of canthaxanthin as a skin tanning agent,  because as a coloring agent in food, only small quantities are enough. A large amount of this chemical is used in the self-tanning pills. If consumed in large quantities, it is known to cause severe health problems including damage to the eyes, the digestive system and the liver.
Are self-tanners safe to use?
Sunless tanning products are a great alternative to achieve a sun-kissed glow to a traditionally tan you get either by sunbathing or using tanning beds. This helps you to minimize the risks of developing serious skin conditions such as skin burn and melanoma or skin cancer. Self-tanning products that contains DHA as the primary ingredient are considered not only safe but are also recognized as the best self tanners by leading health experts and health policy makers:
Experts from the  FDA(Food and Drug Administration) have authorized the use of DHA in cosmetics that includes sunless tanners. However, this use is restricted only to external application, i.e., outside the body. THe FDA doesn't approve of using products that contain DHA on the areas near the eyes, mouth or any surface that is covered by mucous membranes. It should not be inhaled or ingested. For this reason, DHA has not been approved  in tanning sprays. Spray tans covers the body with a mist and it becomes extremely difficult to avoid the small drops getting into your eyes, nose and mouth.
Experts from the  Mayo Clinic and the  Skin Cancer Foundation also deem self-tanners with DHA safe to use as long as they are used as directed.
According to the American Academy of Dermatology, the best self tanners are those that contain dihydroxyacetone (DHA) as the active ingredient.
It's also important to note that these products, even if they contain an added sunscreen, will not protect your skin from the damaging effects of the sun's UV rays. So, it is absolutely essential to use a broad spectrum sunscreen if you are planning to go out in the sun.
While the most self tanners for sensitive skin are quite safe, it is always a good idea to perform a patch test to look-out for any side-effect or allergic reactions. If you feel any itching or burning sensation, or develop a rash, it is advisable not to use the product on your entire body.
How long does a self-tan last?
Every day, our skin sheds millions of dead cells. This is the reason why not only a suntan, but also the tan developed by using sunless or fake tanners gradually fades away with time. You will need to reapply these products in about every three to five days in order to maintain your tan. For how long a tan will last and what is going to be the intensity of the tan depends on many factors.
Our skin is made of various chemicals such as hormones, oil, and amino acids. Since every person's body has these chemicals in different quantities, every skin reacts differently to these products. It causes us to develop a different color even with the same product. It is similar to how the same perfume smells differently on different bodies.
The intensity of the colour will also depend on the concentrations of DHA in your product. For example, if you receive a sunless tan at a beauty salon, it will last you longer. Over the counter sunless tanning products contain a lesser concentrations of DHA as compared to professionally used products.
The duration of the tan will also depend on your skin's natural exfoliation process.
If you follow a good skin care routine both prior and after the procedure, it will help your tan to last longer. In most of the self tanners for sensitive skin, it is recommended to exfoliate your skin before you use such products. It is equally important to keep your skin moisturized after you have applied the products.
How to choose the best self tanner?
The best self-tanners are those which are easy to apply, convenient to use and gives an even, natural looking tan. It is great if these products are supplemented with natural moisturizers such as Aloe Vera and Shea Butter. These ingredients nourish and moisturize the skin. You can also find awesome products that contain natural anti-oxidants such as Vitamin E. These anti-oxidants fight free radicals and prevent the formation of wrinkles caused by over-exposure to the UV rays and even ageing.
5 best self-tanners available on the market:
1. Glow 2 Go – Self Tanning Towelettes by Thermalabs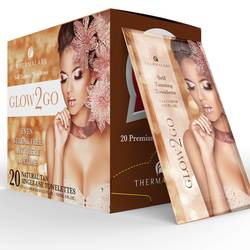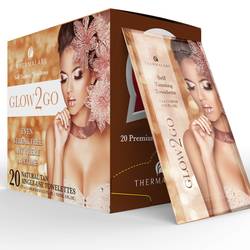 What if you can tan yourself while you are travelling? Would you like to stick a few tan towelettes in your purse or luggage and be ready to get a perfect glow wherever you are? It would be awesome, wouldn't it? Glow 2 Go self tanning towelettes are cool inventions that would help you develop a natural looking, attractive tan even when you are on the go. What's more, this product is the best self tanner for your body. The box is designed in a way that it dispenses one towelette at a time. Large towelettes dry out quickly even before you get a chance to use it on your entire body. But this sunless tanning product comes with 20 towelettes, each towelette is 7.5″ x 7.5″, making it super convenient to use. It takes only 2 towelettes to tan your entire body.
The color shows up in only 4 hours. One coat is usually enough but one can go for a second coat to get a deeper tan. The result is a natural, real-looking tan with no streaks. There is only a slight smell that fades away soon after the application. So you don't have to worry about any tell-tale smell of chemicals that usually lingers on the skin after using self-tanners. Though it dries up quickly and doesn't stain your hands and clothing, you'll still want to let the product air dry on your skin for 10 minutes before you put your clothes back for the best results. The tan usually lasts for about 3-4 days.

2.  Self-Tan Towelettes by TanTowel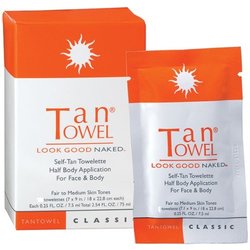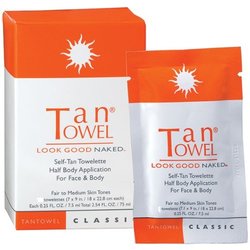 This amazing self tanner for dark skin comes up with dispensable towelettes, making it a great pick even while you are travelling. It is super easy to use and dries pretty quickly. It is ideal for those who have medium to dark skin tones. It is also recommended if you are looking for a deeper, darker tone with just one application. Each towelette is enriched with vitamin E that will help you keep your skin smooth and radiant. It also contains cucumber extract that nourishes and hydrates the skin. Since, the best self tanner builds up a strong tan in only one application, the trick is to continue moving the towel around the entire body and not to focus in one area for a long time. It is best to wash hands immediately. There is a slight smell when you are applying but quickly fades after use. The tan will last for about 2 days.

3. Natural Self-Tanner by Thermalabs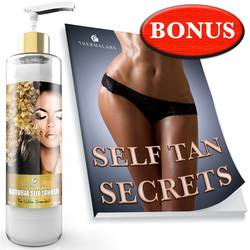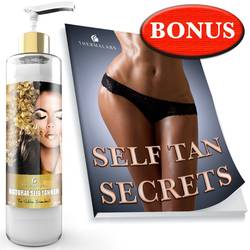 The Natural Self Tanner is another awesome sunless tanning product from the Thermalabs. This one of the best self tanners perfectly suits your skin tone, as it is enriched with organic and all natural ingredients such as Avocado oil, Shea Butter, Olive oil, Cocoa seed butter and juice from Aloe Vera leaves. All these amazing components will pamper your skin, keeping it nourished and moisturized. It will make you feel as if you are using an excellent body lotion rather than a self-tanning product. Gear up to work up a healthy looking tan without any blotchy, streaky effects. The best self tanner leaves no stains on your hands or your clothes and sheets. Since it is a gradual tan, you will need to reapply more layers to develop a darker tan gradually. It has a slight smell but it quickly fades away. It will keep you glowing for about a week.

4. Fake Bake Flawless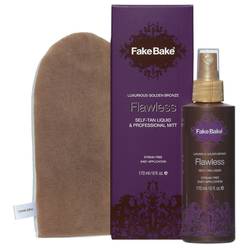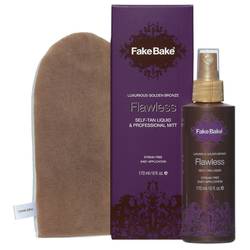 Fake Bake Flawless is suitable for all skin tones and skin types. This sunless tanning product is considered as one of the best self tanners for sensitive skin. It comes with a mitt and a color guard that makes sure every inch of your body is covered. The professional mitt helps to achieve a perfectly even tan with easy, gliding strokes. What you get is an even, natural sun-kissed glow. This product has a super drying and fast absorbing formula. This means you don't have to stand around without clothes forever. It fades evenly, leaving no streaks behind. Now the best part, it gives off a pleasant smell, something like floral or tropical.
Some users have complained that the spray part of the bottle may be a little drippy as the straw that comes along is a little too long for the bottle. However, this problem is quite easy to fix. What you can do is to cut the straw to make it short so that it fits the bottle and prevent dripping. Ready for a beautiful tan that will make the heads turn? Go for Fake Bake Flawless.

5. Tanwise Dark Bronzing Sunless Mousse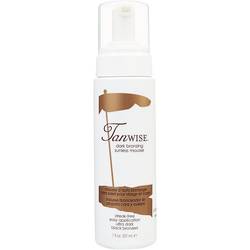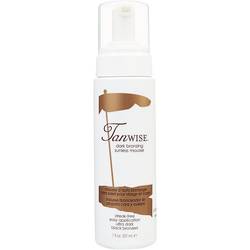 A wonderful self-tanner if you are looking for a subtle tan. And if you want a deeper tone, you can apply another coat of this fantastic self tanner for sensitive skin the next day. The lightweight mousse is very easy to apply. The highlights of this product are dark bronzer and a sunless complex. The dark bronzer will give you an immediate dark color, which might look strange at first but looks absolutely amazing once it has worked its way in. The sunless complex helps to transform this dark tone into a fantastic, streak-free bronze tan. The color develops gradually with time, resulting in a tan that looks natural all the way. It will be a good idea to use a glove or mitt as it might leave your hands stained. This amazing product will keep you looking like a sun-goddess for about a week.