Maui Babe Browning Lotion is a formula that will help you fulfill your desire to get an absolutely tanned skin without roasting yourself in the scorching sun for several hours. It is the most desirable, shortest, and perhaps the safest way to get a tan. Now, you don't have to worry about sunburn while getting a tan with the usage of Maui Babe Browning Lotion. It is also enriched with natural ingredients including Light Mineral Oil, Kukui Nut Oil, Antioxidants, and Aloe Vera for the protection of your skin.
Specialties of Maui Babe Browning Lotion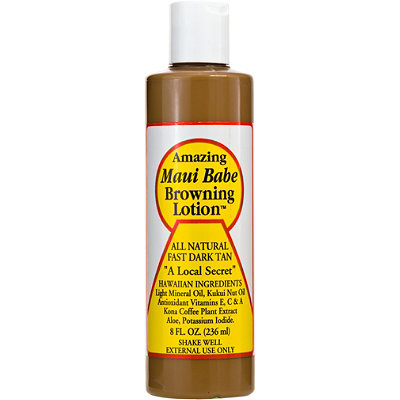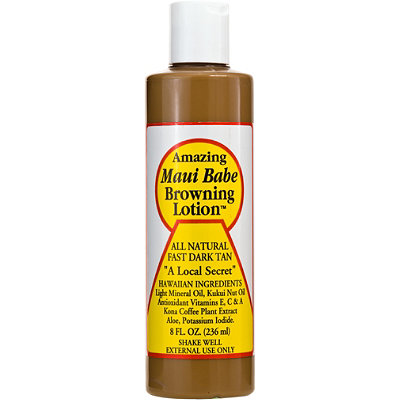 Maui Babe Browning Lotion can be used for all skin types, even sensitive skin type which often reacts poorly to most ingredients found in the tanning lotion. Those who use it love the fact that it is water-resistant and applies more evenly and quicker as compared to the other lotions. Maui Babe Browning Lotion is a pleasant tanning lotion that will deliver your skin brilliant dark bronze tanning outcome through its fantastic meld.
Maui Babe Browning Lotion has a rating of 4.2 out of 5 stars based on the 1030 customer reviews on Amazon.com. Also, it has been ranked 2nd in the category of Tanning Oils under the domain of Beauty and Skincare.
Maui Babe Browning Lotion has an amazing tan technology to offer you the exceptional outcome of dark bronze. Unlike any other tanning lotion, it is very true to its results. It has a pleasant smell similar to that of dark chocolate with a slight touch of coffee, and also it does not rub on your clothes. However, a tanning bed is required. Before its application, note that Maui Babe Browning Lotion is a bronzing lotion, and therefore, it does not contain SPF.
Also Check: Are Tanning Beds Safe?
During its implementation, it is advisable to Exfoliate and takes a Patch test. Also, Maui Babe Browning Lotion gives you long-lasting results. You will experience an amazing dark tan and leave your skin more pleasant than before.
Many customers have raised a question about its functioning – Maui Babe enhances the color instead of protecting your natural skin color to give you a perfect tan. However, Maui Babe Browning Lotion is not a self-tanner. Its function is to accelerate the sun-trigged process of tanning. One bottle of Maui Babe Browning Lotion has a capacity of 8 ounces; thus you can use it for long. Also, it has longer expiry period.
There is absolutely no wonder as to why many people with a fair or pale skin color are going for this trend. Maui Babe Browning Lotion ensures you get a perfect tan to flaunt. Not only this, but Maui Babe Browning Lotion will also keep your skin as healthy as possible. The antioxidants contained in this skin will protect your skin from the harmful free-radicals.
Certainly, Maui Babe Browning Lotion is an amazing product and often recommended to the newbie's who are trying it for the very first time. It helps you get a darker and deeper tan than most lotions which looks and feels luxurious.